PETER FIDLER (1769-1822)
MARY MACKAGONNE (1775-1826)
(Last Updated: August 03, 2015)
Peter Fidler, Canada's Forgotten Explorer 1769-1822 by J.G. MacGregor is undoubtedly the best book I have found about Peter FIDLER. You will find many tidbits in my descendant narratives that are excerpts from this book.
As the 19th century dawned, no other Hudson's Bay Company employee had as much experience in the way of people of the plains and woodlands. He was a resourceful explorer who eagerly embraced the lifestyle of the native people he met. He could shoot buffalo from horseback, he knew how to live on fish and roots. Dressed in buckskin, carrying a flintlock and travelling most of his life by horseback or by canoe, Peter FIDLER was a curious combination of cultured Englishman and versatile frontiersman. He was an inveterate reader, writer and exemplary surveyor.
He lived his life as a dedicated family man. His Cree wife (Mary) was his lifelong companion who travelled with him during his explorations. He supported his many children and provided amply for them in his will.
PETER FIDLER in BOLSOVER
1769-1788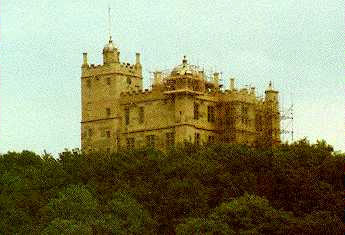 Perched on a hill above Peter Fidler's birthplace is Bolsover Castle
However, when he signed on as a labourer for the HBC
Peter was living on Addle Street in Cheapside in the heart of London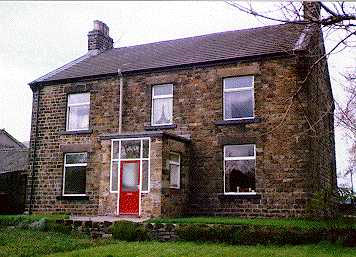 Sutton Mill Farm House in 1992
Peter Fidler's birthplace
Peter FIDLER was born August 16, 1769 in Bolsover, Derbyshire Englandto Mary GLOSSOP (1747-1827) & James FIDLER SR (1730-1809). His paternal grandparents were Sarah (nee OLDFIELD) and Samuel FIDLER (married in 1727).
His father was a Village Constable, a miller and a farmer. He had a brother (James Jr) who was a Road Surveyor. He had a sister named Sarah.
For more information about Peter's birthplace, and about his life in Bolsover, here are a few links:
If you wish to post queries and/or discuss Peter's life in Bolsover, please do so here: Peter FIDLER in Bolsover
A PRELUDE to PETER FIDLER's ARRIVAL IN RUPERT'S LAND
A Brief History of the Fur Trade
The fur trade in North America began with European explorations of the continental mainland.
The Fur Boom could be likened to the Oil Boom of more recent years. Fur trade flourished during a 250 year period that can be roughly divided into three eras:
1600-1760 The French Era
There is little doubt that the French were the earliest of the fur traders and explorers in Canada.

1760-1816 The British Era
The Hudson's Bay Company (HBC) was chartered in 1670.
English Free Traders
John SAYER was just one of the first English free-traders in Canada (he later became a Nor'wester). I mention him in particular because many of his descendants had family links to Peter FIDLER
SAYER started out in the Lake Superior area in 1776, FIDLER at York Factory in 1788. SAYER was the older of the two.
The North West Company (NWC) was formed around 1784 and a fierce rivalry soon began between the HBC and the
NWC.

1816-1850 The American Era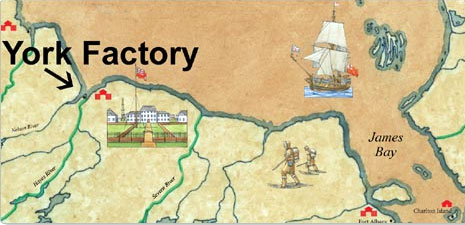 Map by Jack McMaster
York Factory is located near the mouth of the Hayes River approximately 250 kilometers southeast of Churchill. Its location on the Hayes River near Hudson Bay, and with access to the Nelson River, was a deliberate choice on the part of the Hudson's Bay Company. This location was accessible by ocean-going vessels, which would anchor at Five Fathom Hole, and provided safe harbour. From here goods were transferred to York Factory and smaller boats for inland trade via navigable rivers
In 1778 Philip TURNOR, a trained Surveyor. was hired by the HBC. For the next 17 years, he would extensively map the waterways along the coast, and inland from Hudson Bay, and he trained others, including Peter FIDLER, to do the same.
In 1782 Humphrey MARTIN (1766-1818) was the Chief Factor at York Factory when it was attacked and destroyed by the French navigator Jean-Francois LAPEROUSE. The fort was destroyed and MARTIN and his men were taken prisoner to France where they were later released.
In 1783 MARTIN returned to York and in 1785 Joseph COLEN (b-c1760) led a project to rebuild the fort.
In 1784 John SAYER (1750-1818) was at Fond du Lac, and that year William McGILLIVRAY (1764-1825) engaged two young Scot cousins, Alexander MacKENZIE (21 yrs old) and 12 yr old Roderick McKENZIE as clerks. By 1785 the MacKENZIE cousins were in the far northwest with the XY Co at Ile a la Crosse in opposition to Patrick SMALL, and at Lac des Serpents (Pinehouse Lk), in opposition to William McGILLIVRAY.
In 1785 MARTEN was cheered by the arrival of David THOMPSON (1770-1857) as his assistant.
In 1786 COLEN succeeded MARTIN as Chief Factor at York
In 1786 William Hemmings COOK (1768-1846) arrived at York to begin his HBC career.
The new North West Company reinvented itself at least twice in its first four years and by 1787, Simon McTAVISH (b-c1750) and his partners, Joseph FROBISHER in Montreal and Patrick SMALL and Nicholas MONTOUR (1756-1808) in the fur country - held 11 of the 20 shares.
On Apr 23, 1788 James Curtis BIRD (1773-1856) entered HBC service as a Writer at York Factory
Mary MACKEGONNE (1771-1826) and the "Home Guard" Cree
Similar to the James Bay Cree, some Cree called "Home Guards" elected to remain permanently on the Hudson Bay river mouths to supply provisions to the posts. The Home Guard Cree provided food, primarily geese, as well as furs, supplies, and equipment to the fur traders, and in the process they became more dependent on traders for food and clothing, even though they provided more food to the traders than they received. The social composition of the Home Guard Cree population changed through intermarriage with traders, resulting in large mixed-blood populations. (Multicultural Canada)
Mary MACKEGONNE (baptized in 1771 at York Factory) who became the wife of Peter FIDLER in the fall of 1794, is said to have been a child of such a family.
PETER'S BACHELOR YEARS WITH THE HUDSON'S BAY COMPANY
1788-1794
On Apr 19, 1788, at the age of 19, PETER FIDLER signed a five year contract (as a labourer) with the Hudson Bay Company (HBC), arriving that summer at York Factory. He soon proved himself to be an exceptionally bright and motivated individual and a valued employee, and quickly promoted to the position of post journal writer.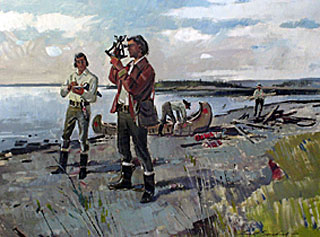 Peter FIDLER (on the left) and Philip TURNOR (centre)
Oil Sketch by Lorne Bouchard
There are no real pictures of Peter FIDLER but we know that he was about 5 ' 10 " and of 'vigorous' stature. He may have dressed as an Englishman during his first year in Rupert's Land but it is doubtful that he would have bothered after that as native dress was much more practical and available. He had an easy going, philosophical nature which stood him well in an industry where the principal players were in fierce competition with each other. Where other Bay men were confrontational Nor'Westers, FIDLER travelled in his rival's territory with little antagonism.
In 1789 Sir Alexander McKENZIE, 26 years old, made his famous expedition (for the rival NWC) to the Arctic Ocean from Fort Chipewyan, along the McKenzie River. Alex's 27 yr old 'Cousin Roddy" had built, and was located at, Fort Chip at the time.
In the spring of 1790, Peter (and David THOMPSON) moved to Cumberland House where they trained as surveyors under Philip TURNOR. In the summer of that year he was taken on an expedition to locate a new water route linking Hudson's Bay to the Great Slave and Athabasca lakes. The HBC hoped that the location of such a route would give them an advantage in their battle against the Northwest Company (NWC) increasing business in the region. Although the expedition was not a success the two-year trek helped FIDLERto hone his skills as a surveyor and develop cordial relations with the First Nations peoples. During this time FIDLER wintered with the Chipewyan for two seasons, where he studied not only their culture but also their language.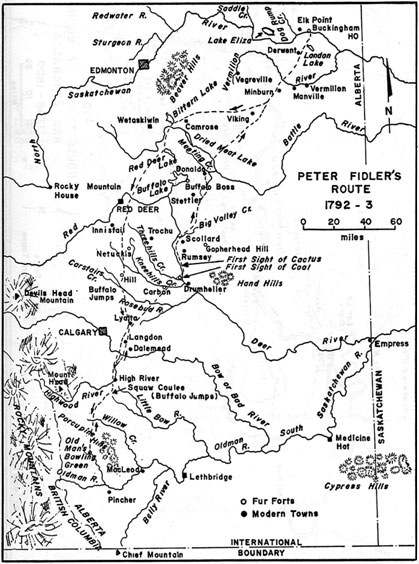 In 1792 FIDLER returned to the North West to help the HBC strengthen its holdings along the Saskatchewan River. Making Buckingham House his base (Elk Point, Alberta, about 90 km NW of Lloydminster), FIDLER began to survey the region, travelling as far as the Rocky Mountains and exploring the North Saskatchewan River region. On his journeys not only did he develop good relations with the local Peigan people but he also became the first European to record interactions with the Kootenay Indians. He was the first explorer to see and record the coal at Drumheller.

In 1793 he returned to York Factory where he spent the next two years

PETER FIDLER MARRIES MARY MACKAGONNE


1794--1800

In the fall of 1794 Peter FIDLER was married "according to the customs of the country" to Mary MACKEGONNE, a "Home Guard Cree" from the environs or York Factory.

Enthused over the new maps Peter had provided, HBC officials in London ordered that he continue his map-making and be sent on new expeditions. From the summer of 1795 he spent the next seven years engaged in trading while surveying the northwest. He spent time at Cumberland House, on the Assiniboine River, and constructed new posts, including Carlton and Bolsover Houses in Saskatchewan, as well as Greenwich House at Lac la Biche, which was in direct competition with the Nor'wester David THOMPSON. It was also during this period that FIDLER, with the help of Akoi Makai, a Siksika Indian of note, created his famous map of southern Alberta, the Rocky Mountains, and the Missouri River drainage system.

On June 20, 1795 at York Factory Mary gave birth to their first child, Thomas Jonathan

On Oct 10, 1798, his second son, Charles, was born at Cumberland House.

Chesterfield House

1800-1802

In the fall of 1800 Peter built Chesterfield House at the junction of the Bad and Red Deer rivers (Bad River being the South Saskatchewan), SE of present day Empress, AB, also known as Deer Forks, east of the MB-SK border. In his notebook Peter recorded the birth of his third son, George, at 12:15 pm on Nov 10, 1800.

In the spring of 1801 the family returned to Cumberland House for the summer. However, that fall they were back at Chesterfield for another winter.

On June 23, 1802 FIDLER and family arrived back at York Factory.

Nottingham House in Athabasca Territory
1802-1806

By 1802 the North West Company was well entrenched in the far north west. They had posts scattered along the Peace River, at Great Slave Lake and other strategic points, with a headquarters at Fort Chipewyan on Lake Athabasca. They considered this region their domain, but the competiion was about to move in. In addition to the HBC, the new XY Company (created by Sir Alexander MacKENZIE) was eager to unseat their rival.

In 1802 James McKENZIE (1777-1849) became a partner in the NWC and was assigned to the Athabasca country where he was in charge during the events of 1802-1806.

The daunting task of establishing an HBC post at Fort Chip had been assigned to none other than Peter FIDLER. On Aug 2, 1802 Peter and Mary (with Thomas SWAIN) embarked from York with 16 men in five canoes to open up the Athabasca territory, leaving their three young children behind. Thomas (age 7) was left with Thomas COLEN at York Factory. COLEN was to teach him his lessons and look after him. Charles (age 4) and George (just an infant) were left with their maternal grandparents.

On Sep 18, 1802 the FIDLER party arrived at Lake Athabasca. SWAIN was dispatched with three canoes and nine of the men to build Mansfield House, well up the Peace River near modern day Fort Vermilion. Then, with his eight remaining men Peter bult Nottingham House at Fort Chipewyan, less than a mile from the NWC Post. Now all three of the companies had houses at Fort Chip. On Nov 26, 1802 Sarah "Sally" (their first daughter) was born at Nottingham House.

On Jan 23, 1803 SWAIN returned with his men to Nottingham, reporting the uselessness of doing business up the Peace. In the following spring SWAIN was told to take four men and return to Mansfield House to try once again to get a foot-hold there in the summer. On May 13 FIDLER left two men with James KIRKNESS who was to stay in charge of Nottingham for the summer, and he set out for the return trip to Cumberland with nine other men.

That fall FIDLER set out again to Fort Chip, this time with his entire family. With them were nine men in three canoes. On Aug 22, after ascending the Churchill River they reached Ile a la Crosse, and on Sep 12 they were back at Nottingham House for another winter, than back to Cumberland in May.

On Aug 3, 1804 Peter set out once more with his faithful supporter, Thomas SWAIN, and eight men in two canoes to spend a third winter at Nottingham. They arrived there on Sep 11. On Oct 12, 1804 son Decusroggan was born.

In November of 1804 the XY Company joined forces with NWC. Until then the NWC had been the major aggressor in the competition for furs in the Athabasca region, and their main opponent had been the XY company. The feuding between these two had provided some relief to FIDLER and his relatively small operation. Now indeed things were looking bleak for the HBC. All of the parites involved had suffered poor returns as a result of the ccompetition. Before he departed for Cumberland that spring, FIDLER was warned in no uncertain terms that he should not return.

Fully aware of the dangers, his Company superiors insisted that Peter return, and so he did, with dogged loyalty and sense of duty. (In my opinion, it looks like the HBC was offering Peter as a sacrificial lamb.) Perhaps he could negotiage a truce. On Aug 6, 1805 he stubbornly set out for the fourth year in a row with his usual complement of eight men in two canoes, knowing full well that he faced certain failure. From the time he left Ile a la Crosse he faced an ordeal. The NWC sent a man out ahead of him to clear the route of game and to warn the Chipewyans not to have anything to do with the HBC. On Sep 11 he arrived at Nottingham.

Samuel BLACK was born around 1780 in Aberdeen, Scotland. A huge man with a "slow and imposing manner of speech" (See photo below), BLACK was hired by the NWC in 1803 and was sent to the Peace River country to intimidate and harass rival traders.

In 1805 BLACK was sent to Fort Chip, and Peter FIDLER and his men became his primary target. On the day he arrived, BLACK and his men began by pulling up his garden and attempting to set fire to his house. Vastly outnumbered, FIDLER had little choice but to endure, and to 'turn the other cheek'. In fact his instructions from headquarters were to do just that. Peter made an attempt to negotiate a truce with MacKENZIE but it soon became obvious there would be no truce. There was little else FIDLER and SWAIN could do but capitulate. Nottingham House was abandoned in the spring of 1806.

Peter took his furs to York Factory and then returned to take charge of Cumberland House for the winter. On Nov 29, 1806, son Andrew was born there.

Back to Surveying and Mapping
1807-1809

On June 2, 1807 Peter left the family at Cumberland and went down to York Factory. He returned to surveying and map making. He, William AULD and William TOMISON were sent to find a shortcut to the east end of Lake Athabasca. On Aug 4, 1807 they returned to Churchill Factory.

On Sep 14 Peter left York Factory and proceeded to Swan River House, arriving there on Oct 22, 1807 to spend the winter.

On Mar 29, 1808 Peter set out by dog team. On May 1 he reached the mouth of the Qu'Appelle River; around May 8 he was at Brandon House. From there he proceeded to Winnipeg where he commenced surveying Red River down to its mouth, then along the eastern shore of Lake Winnipeg up to Norway House. On Aug 22 he was at York Factory and on Aug 26 he left for Churchill.

FIDLER, AULD & William LINKLATER spent the winter 1808-09 in the vicinity of Reindeer Lake. Reindeer Lake, south of the NWT border, straddles the SK – AB border. Here AULD got a first-hand experience at what it was like to deal with the Nor'Westers, this time under leadership of John Duncan CAMPBELL (1773-1835).

While AULD spent the following year in Britain, FIDLER undoubtedly returned from the Churchill in the fall of 1809 to carry on the fight against the North West Company and to work out more details of the complicated geography of the Reindeer Lake area. Accompanying him were Mary and their family of seven, which now included another son, Alban, who had been born during a brief stop at Holy Lake on June 17, 1809. While at times FIDLER must have looked over his growing family and been hard pressed to find food for all of them, they were on the whole an asset rather than a liability. As his journal had said years previously when referring to Malcolm ROSS's woman, "an Indian woman at a house is particularly useful in making shoes, cutting line, netting snowshoes, cleaning and stretching beaver "skins" and in performing such a multitude of other tasks for the good of the establishment that she was indispensable. It was true that FIDLER would have provided a canoe for Mary, but she would paddle it herself on those long trips when she followed her surveyor husband about. By now, Thomas, the oldest son, was fifteen, and in a canoe, at portages or at posts, did a man's work without getting paid for it. Similarly, the younger children had their assigned tasks, so that FIDLER's family was a far greater help to him than a hindrance.Unfortunately FIDLER's journals for that winter have not survived.

Dark Days at Ile-a-la-Crosse
1810-1811

On June 9, 1910 FIDLER arrived at Ile a la Crosse where he was to take command. He had been selected as the best man available to yet again face up to the terrors of the Nor'Westers' inquisition. Again, Samuel BLACK was brought in to break FIDLER's will and John Duncan CAMPBELL (1773-1835) arrived from Reindeer Lake. If that wasn't bad enough for Peter, they were joined by Peter Skene OGDEN (1790-1854).

** MORE ABOUT JOHN DUNCAN CAMPBELL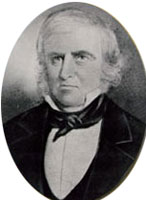 Peter Skene Ogden (1790-1854)
BLACK and OGDEN conducted a systematic campaign of intimidation, the former swaggering about with gun and pistols, while OGDEN fondled his dagger. They shot at the (HBC) company's weather-vane, fired at FIDLER's flag, cut down his stockades, carried away his firewood, stole his fishing lines and cut his nets, so as to try to freeze and starve him out. Finally they forbade FIDLER's men to leave their house. With 26 men opposed to his eight, they terrified the Indians and denied them access to the HBC fort.
Towards the end of October, BLACK and OGDEN came over to the post, decked out with a gun, two pistols and a dagger, and FIDLER met them in the yard. - - OGDEN immediately drew his dagger and cut two large holes in the side and back of my coat and pricked my body - - but no further - - BLACK then took up part of the stick I had broken over him and struck me on the thumb - - smashed it to pieces - - OGDEN also struck me twice with a stick - - all our men looking on the whole time without giving me any assistance - - BLACK and OGDEN followed me into my room with their guns and daggers and abused me very much while my thumb was dripping - -
Finally on June 4, 1811, soon after FIDLER and his party embarked for Churchill, the Norwesters climbed over the stockade and set his buildinga afire. A week before they reached the Bay, on June 27, 1811 daughter Mary was born at Charlton or Chalk Portage.
In the fall of 1811 Peter sailed for England for a year's furlough.
THE SELKIRK SETTLERS
Brandon House
1812-1819
On August 26, 1812 Peter FIDLER arrived back at York Factory along with another group of Selkirk Settlers. The war between England and the USA was disrupting trade all across the continent, and the first of Lord SELKIRK's settlers had arrived at present day Winnipeg, already populated by Metis descendants of French speaking fur traders and their Native wives.
Peter became the Postmaster at Brandon House (Manitoba), but he was soon sent to assist Lord SELKIRK by bringing in homesteaders, surveying river lots for settlement, and building houses. During such absences sons Tom (age 17) and Charles (age 14) did their best to fill in for him at Brandon, much to the dismay of AULD who thought they were too young for such a task.
On Aug 26, 1813 daughter Faith was born in Red River. Two months later (Oct 6) Faith died at Brandon House.
On Jan 8, 1814 Govenor of the Selkirk Settlement, Miles MacDONELL, issued his famous "Pemmican Proclamation" forbidding the export of pemmican from SELKIRK's grant for a period of a year. This set off a series of events he would later regret.
On March 8, 1814 son Descusroggan died after a 24 day illness. He was only 10 years old.
On Nov 24, 1814 son Clement was born at Brandon House.
Cuthbert GRANT on a Rampage
1815-1817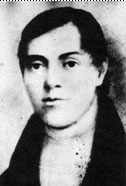 Cuthbert GRANT (1796-1854)
Cuthbert GRANT JR was born in 1796, at Fort de la Riviere Tremblante. Cuthbert's father, Cuthbert Sr. was a partner and trader with the North West Company; his mother was a Metis Cree woman.
In March of 1815, after HBC men had arrested Peter PANGMAN (known as Bostonais by the Métis) on a charge of assault, GRANT at the head of 27 Métis seized four colonists as hostages. On this occasion, there was an exchange of prisoners, but as the year went on the pressure applied by the Nor'Westers to the colonists increased and GRANT was in the thick of the action.
On June 7 GRANT established a Métis camp on the west bank of the Red River, four miles downstream from Point Douglas, the colony's headquarters, to cover the departure of 42 colonists in NWC canoes for Canada. GRANT's men began to harry the settlement, stealing horses and ploughs, and there were exchanges of fire between the Métis and the remaining settlers. In such an encounter at Fort Douglas (Winnipeg) on 10 June, one of Governor MACDONELL's men was killed. On June 17 the governor gave himself up to the Nor'Westers who sent him down to the Canadas under arrest. But the attacks on the colony did not end, settlers continued to flee, and on June 25 Peter FIDLER, left in charge of the colony after MACDONELL's departure, capitulated under an agreement on which GRANT's signature appears as one of the "chiefs of the Half-breeds." FIDLER consented to the complete evacuation of the colony. Nobody signed the agreement on behalf of the NWC. The Métis – and GRANT – were being made to appear responsible for actions intended to further the company's interests.
GRANT returned to the Qu'Appelle River after FIDLER's surrender, but that incident did not mean the end either of the Selkirk colony or of the HBC's presence on the Red River. In August of 1815 Colin ROBERTSON (a former Nor'Wester who had joined the HBC) arrived with a group of about 50 of the departing settlers who had asked him to lead them back, and in November Robert SEMPLE arrived as governor-in-chief of the HBC territories to take over the administration of the settlement. GRANT reacted with calculated hostility to SEMPLE's approaches.
A third party of SELKIRK Settlers (86) arrived at York Factory in the fall of 1815. On Aug 30, 1815 SEMPLE appointed Thomas THOMAS and Peter FIDLER Councillors of the British District of Assiniboine. FIDLER received a petition that year from the defiant Metis, headed by GRANT, demanding that the settlers get out of Red River.
In March of 1816 GRANT was singled out, again by Dugald CAMERON, as "Captain-General of all the Half-Breeds." There is little doubt that GRANT allowed himself to be used by the Nor'Westers, and that he did so partly because of the vanity that was one of his abiding weaknesses and partly because of his desire for advancement in the company's hierarchy of officers. Two months later (May 8) he set out with a troop of 60 Métis horsemen on an expedition clearly intended to prevent a resurgence of the rival power on the Red River. First they ambushed the HBC boats, under Pierre-Chrysologue PAMBRUN and James SUTHERLAND, bringing pemmican down the Qu'Appelle. Joined by Alexander Greenfield MACDONELL and the NWC boats, GRANT then escorted the pemmican down the Assiniboine, and at the Souris River he and his men captured and ransacked the HBC's Brandon House, commanded by FIDLER.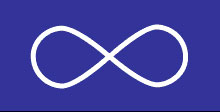 In his diary of Jun 1, 1816 FIDLER recorded the first sighting of the Metis Flag
"At half past noon about 48 Half-Breeds, Canadians, Freemen and Indians
came riding on horseback with their flag flying,
blue, about 4 feet square and a figure 8 horizontally in the middle".
When Cuthbert GRANT pillaged Brandon House George FIDDLER was 15 years old. His oldest brother (Tom) was almost 18 years old, and Charlie was yet 17. His younger siblings at that time were Sarah (age 13), Andrew (age 9), Alban (age 7), Mary (almost 5), and Clement (about 1 ½). Cuthbert GRANT himself was just a young man around 23 years old.
More from Peter FIDLER's Journal: "Thomas (Tom) FIDLER they knocked about in McDONELL's room & in his presence, and told him that if he did not inform where the above things were hidden they would murder him, at last he was obliged to tell them to save his life where one roll Tobacco was hid and the same large band came over again, with the most horrid threats many of them being now almost quite drunk, to render them desperate & told us that if we did not immediately discover where the Goods were hid they would murder us & Burn down all the Houses.—James INKSTER was also very badly used by them, till he was at last obliged to tell them where the things were hidden to save his life.—they also used me very ill and threatened to tye me to the Gates & keep me there two days if I would not tell but they could not induce me to inform them." More: "They forced Thomas (Tom) FIDLER over to the NW Ho & Made him sign a paper not to bear arms against the NW Co. When they left us the first time the Banditti forced over to their House every person except myself, saying McDONELL wanted them"
The Seven Oaks Massacre
On June 19 Cuthbert GRANT reached a point about three miles from the fork of the Assiniboine and Red rivers and turned inland, hoping to circle unseen the now stockaded Fort Douglas, but his party was discovered. Governor SEMPLE, at the head of a small group of armed men, went out to meet them at Seven Oaks (Winnipeg). It is not clear how the fighting began; the first shot may indeed have been fired by SEMPLE's men. But certain facts are evident. The encounter would never have taken place if GRANT and his men had not set out with the hostile intent demonstrated in their ambushing of the HBC pemmican boats and their capture of Brandon House. As soon as firing began GRANT shot at SEMPLE and broke his thigh, rendering him a helpless victim for the Métis or Indian who killed him. The skirmish degenerated into a gruesome massacre in which about 20 of SEMPLE's party and one of GRANT's were killed in the space of 15 minutes. The wounded were ruthlessly slaughtered and most of the dead were mutilated. GRANT either could not or would not prevent the massacre; he certainly used it to frighten the remaining colonists into departing, so that once again the NWC was ascendant on the Red River.
In August of 1816 GRANT was at the NWC Post Bas-de-la-Rivière (Fort Alexander) on Lake Winnipeg and, because of his association with Archibald McLELLAN, he was later reported to have been implicated in the murder of HBC officer Owen KEVENY on the Winnipeg River the following month. When he learned of the capture by SELKIRK of the NWC depot at Fort William, GRANT retreated to Red River and then in October returned to Fort Qu'Appelle.
On March 5, 1817 daughter Colette "Polly" FIDLER was born at Halkett's House.
On July 18, 1817 Lord SELKIRK made a treaty with Chief PEGUIS, extinguishing Indian title to lands along the Red River south of Lake Winnipeg.
After the re-establishment of the Red River colony and the arrival of William B COLTMAN as commissioner from Lower Canada to inquire into the conflict in the northwest, GRANT, in August 1817, gave himself up. COLTMAN recorded his deposition on the events of 1815 and 1816, and then took him to Montreal to face charges of murder, theft, and arson. GRANT arrived there about the end of October and was held in the common jail while awaiting his hearing on the first of the charges, that of the murder of KEVENY. In this case his guilt was indeed doubtful and he was released.
On Sep 15, 1817, with great relief, FIDLER returned to Brandon House to resume his old job as a fur trader.
In 1818 Peter's 16 year old daughter Sally (Sarah) fell into the clutches of William WILLIAMS, who in November that year became the new Governor in Chief of the HBC. WILLIAMS was old enough to be Sally's father (in fact he was about the same age Peter), and he already had a wife in England.
On June 18, 1819 daughter Margaret was born at Brandon House, only to die on July 21 at the Red River Forks.
The Final Years of Peter FIDLER
Fort Dauphin
1819-1822
In September of 1819 Peter FIDLER took charge of Fort Dauphin with his son Charles, now a Company employee He was 50 years old now, and in November that year illness began creeping in.
On May 24, 1820 he set off for Norway House. He left Mary there, and proceeded to York Factory, arriving on June 18. On July 11 at York he met "a new Scot fresh out from London, a dapper little snip of a man named George SIMPSON". Having completed his affairs Peter began the homeward trip on Aug 21, stopping again at Norway House to pick up the family, which had increased during his absence (son Peter Jr had been born there on Jul 2, 1820). When he reached Dauphin House he was greeted by his employee sons (Tom & George). During the winter of 1820-21 he was "attacked with Palsy".
On March 26, 1821 an Amalgamation Agreement was being signed in London, between the NWC and the HBC. Everyone had been expecting this, and they knew that staff reductions and early retirements were imminent. Peter began to prepare his will. On June 5, 1821 he departed with Mary and four children on another trip to Norway House. Upon his arrival he learned of official NWC-HBC union. Nicholas GARRY had been sent out to lay the groundwork for a new set of Company policies and Peter met with him. He was told that he should remain the winter at Norway House with Mr ROBINSON.
By coincidence, Rev John WEST (1778-1845) had stopped over at Norway House on his way to York Factory. This was FIDLER's first opportunity to avail himself of the services of a minister of his own faith, so on Aug 12 all of the family he had with him were baptised (Mary, Clement, Colette and Peter Jr), and two days later (Aug 14, 1821) he and Mary were formally married.
On Aug 16, 1821 at Norway House, Peter signed his will and on Aug 23 he wrote a letter to GARRY indicating that he wished to remain in service "as an Indian Trader at any small post you may think proper to assign me". His wish was granted and he was sent back to Fort Dauphin, demoted to a Clerk..
While he was away his 26 year old son Tom had begun a relationship with Nancy HALLETT.
On July 9, 1822 daughter Harriet (their last child) was born at Fort Dauphin.
On Dec 17, 1822 Peter FIDLER passed away at Dauphin Lake House. He was only 53!
Widow Mary FIDLER
1823-1826
When Peter died there were 11 children.
Soon after Peter died Mary moved to Red River.
In the summer of 1823 son Charles (age 25) was "country wed" to Annie SAUNDERS
Around 1825 son George was "country wed" to Nancy BLACK
On Jun 26, 1826 Mary FIDLER was buried at Red River Settlement, Rev David T JONES, Chaplain of the HBC officiating.
In her book "Children of the Rivers", respected genealogist Heather HALLETT attempts to summarize the family situation after Mary's death. On page 148: "At the timer of her death, Mary had a number of young children. One wonders who looked after them until they were old enough to fend for themselves. In 1826 Harriet was 4 years old, Peter was 6, Collette 9, Clement 12, Mary 15, Alban 17 and Andrew 20. Sally, Thomas and Charles had households of their own by then and it is likely that George did too. The older children must have looked after the younger ones.
It is very probable that Henry HALLETT was happy to see some of his old friends, Peter and Mary's family, united with his own. James HALLETT and Sarah FIDLER were married, along with her three brothers Thomas, Alban and Andrew and James' sisters Nancy, Ann and Elizaheth, on Nov 6, 1828 at St John's Anglican Church, Red River. Nancy HALLETT had married Thomas FIDLER some years earlier according to the custom of the country. They also went through a Church Marriage ceremony that day.
Peter FIDLER's will, in which he directed that most of his capital was to be invested and left until the 200th anniversary of his birth, had been set aside by then because the trustees didn't want the job of looking after the investments for the rest of their lives, and beyond. Also, they may have felt that his children were entitled to an inheritance after Mary died. So, all the FIDLER children would have come into some money by 1828 and Henry HALLETT could rest easy knowing that his young daughters were getting a good financial start to their marriages. Sarah FIDLER received 200 pounds and I expect her brothers received similar amounts.
In the 1829 census James and Sally are listed with two children, living on seven cultivated acres, without a house. They lived with the senior HALLETs. In the 1830 census they are listed with three children and a house which James built on his father's estate on Point Douglas. James HALLETT withdrew 40 pounds from Sarah's settler's account at Fort Garry that year.
Comments an queries at this link: FORUM DISCUSSING the PETER FIDLER FAMILY
==================== Family Details ====================
Children:
1. June 20, 1795 THOMAS JOHNATHAN FIDLER (m1. Nancy HALLETT, m2. Jane KIPLING)
More about Thomas Johnathan FIDLER
2. Oct 10, 1798 CHARLES FIDLER (m. Ann SAUNDERSON\SAUNDERS)
3. Nov 10, 1800 GEORGE FIDLER (m. Nancy BLACK)
4. Nov 26, 1802 SARAH "SALLY" FIDLER (m1. William WILLIAMS, m2. James HALLETT)
MORE ABOUT SARAH "SALLY" FIDLER in RED RIVER ANCESTRY
5. Oct 12, 1804 DECUSROGGAN FIDLER (Died in infancy Age 10)
6. Nov 29, 1806 ANDREW FIDLER (m. Ann HALLETT)
7. Jun 17, 1809 ALBAN FIDLER (m. Elizabeth HALLETT)
8. June 27, 1811 MARY FIDLER (m. John FOULDS)
** MORE ABOUT JOHN FOULDS in RED RIVER ANCESTRY
9. Aug 26, 1813 FAITH FIDLER (Died in infancy Age 2-3 mos)
10. Nov 24, 1814 CLEMENT FIDLER (m. Charlotte SLATER)
11. Mar 5, 1817 COLLETTE "POLLY" FIDLER (m. George IRVINE)
12. Jun 18, 1819 MARGUERITE FIDLER (Died in infancy 1 mo old)
13. Jul 2, 1820 PETER FIDLER Jr (m. Amelia BIRD)
** MORE ABOUT PETER FIDLER JR (Updated version in Red River Ancestry)