WILLIAM "BILL" FIDLER (1845-1929)
JANE YOUNG (1849-1916)
© 2008 - 2010 Gary N. Still
(Last Updated: January 13, 2015)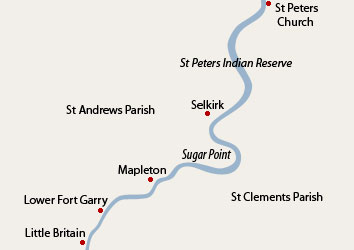 William FIDLER lived on the east side of the Red River, across from Mapleton
William "Bill" FIDLER was born May 18, 1845, across the river from Sugar Point (Mapleton, south of Selkirk MB), the youngest child of Thomas Jonathan FIDLER (1795-1875) and his second wife, Jane KIPLING. Bill had 10 siblings, five of which were children of his father's first wife, Nancy HALLETT. His father was an HBC employee with an Accounting position at Lower Fort Garry, one of the few Métis to hold a senior position, thanks to the influence of Grampa Peter FIDLER, the English surveyor and explorer from Bolsover, England. ** MORE ABOUT THOMAS JONATHAN FIDLER
St Andrews Anglican Church on the Red, the oldest stone church in Western Canada, was designed by Archdeacon William COCHRANE and built between 1845 and 1849 by stonemason Duncan McRAE to serve retired HBC personnel and English mixed bloods. On Feb 27, 1849, Bill (age 4) and four of his siblings were baptised at this church, which was consecrated on Dec 19, 1949 by the Rev David ANDERSON, the first Bishop of the Anglican Diocese of Rupert's Land.
In 1853 a school was established at Sugar Point with Donald McDONALD as the Master. Bill was probably one of the first students.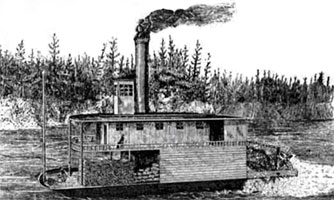 The Anson Northrop. The name changed to the 'Pioneer' in 1860
Bill was 14 years old in 1859 when the Anson Northrup (built at Lafayette, North Dakota) became the first steamboat to navigate the Red River. It reached Upper Fort Garry that year, beginning a new era in transportation.
Sam TAYLOR (1812-1894) was the Chief Builder of the St Clements Anglican Church (at Mapleton). In his diary, he noted in some detail the building of the church. "On December 1861, Sunday 1st, the Church of St Clements was opened for divine worship by Lord Bishop of Rupertsland and Mr (James) HUNTER. The church was full of people from up above and down below. Indeed, many had to go home as it was rather cold that evening". In 1862 TAYLOR notes the hanging of the "John West Bell" in the St Clements church. Everyone who grew up in Mapleton is familiar with the sound of this old bell.
More information about Mapleton History and St Clements Church
Bill FIDLER Marries Jane YOUNG
1866
On Nov 2, 1866 Bill FIDLER (age 21) was married at the St Clements Church to Jane YOUNG, the 17 year old daughter of halfbreed Isabella (nee STEVENS) and Englishman James YOUNG (1822-1870). Their first child was Jane Marie, born Sep 2, 1867. ** MORE ABOUT JAMES YOUNG
Between 1868 and 1870 the Manitoba RIEL rebellion occurred. Bill was around 35 years old when these events took place. His neighbour, Thomas BUNN (1830-1875) was a member of the Council of Assiniboia as well as the Provisional Government created by Louis RIEL.
Jane's father, James YOUNG, died in 1870, and her mother (Isabella) remarried around 1874 to Malcolm McLEOD
On Aug 3, 1871 Treaty #1 was signed at Lower Ft Garry by Chief Henry PRINCE and other band chiefs, which essentially re-located the Indians of the Red River area to Selkirk and St Peters to make way for settlers.
Bill was 28 years old when Winnipeg was incorporated as a City in 1873 (population about 2,000). Selkirk's population was about 400.
On July 8, 1875 Jane & Bill claimed their Half-breed Scrip.
The Red River Census of 1881 (St Clements) recorded Bill (age 35); his wife Jane (age 30); and his seven children as follows: Jane, William F, James, Henry George, Anabella, John Robert and baby Sarah H.
On Jan 12, 1888 daughter Jane Marie married widower William Thomas MOORE (1863-1940). MOORE had been married to Ann Elizabeth RICHARDS who died in 1887.
On Sep 19, 1889, son James married in Selkirk to Catherine McKENZIE. A daughter Mary was born to them on Jan 3, 1890.
In 1891 son William Thomas married Isabella COOPER.
On Christmas Day of 1891 daughter-in-law Catherine (son James' wife) died in child-birth. Son James soon after began a relationship with Caroline SAYER.
In June of 1893 two year old granddaughter Mary (James' child) died at Rat Portage (Kenora), and around the same time James' common-law wife Caroline (nee SAYER) gave birth to a son (Ventrice).
On Jan 9, 1896 daughter Anabella gave birth to an illegitimate son named Edgar PRUDEN (I do not know who Edgar's father was).
On Nov 19, 1896 son Henry George married Jane ISBISTER
On Dec 3, 1896 daughter Anabella married Frank RILEY

In 1899 daughter Sarah Harriet married Alexander Donald McLEOD, son of Clementine HARPER and John McLEOD (1835-1912) from Scotland.
On Feb 23, 1899, daughter Anabella RILEY died in St Clements, age 23. Her son Edgar PRUDEN was adopted by his grandparents (Bill & Jane). His surname became FIDLER.
The census of 1901 enumerated Bill (age 65, a farmer) and his family in St Clements Parish with the following children: John, Donald, Florence, Bertha, Alexander and Pearl. With them was their five year old grandson, Edgar PRUDEN. Edgar was a child of their daughter Anabella who had died two years earlier. Interestingly, the census recorded the family with Cree as their racial origin.
Census 1906: Bill and Jane were enumerated on Lot 94 (St Clements East) with children: John, Donald, Bertha, Pearl, Herbert and Edgar (grandson).
Daughter Bertha married Jan 30, 1907 in St Andrews to Charles HODGSON.
When Census 1911 was taken, Bill and Jane had moved to Molson, MB (Section 31-12-9-EPM) east of Beausejour). With them were daughter Pearl and grandson Edgar (PRUDEN) FIDLER (age 16)
Son Donald (Pat) married Dec 21, 1914 in Selkirk to Victoria COOPER
Jane died in October or 1916 at the age of 66.
On May 14, 1918 son Alex Herbert enlisted. He was discharged on Jan 3, 1919. He returned home to Molson and on Feb 12, 1919 he married Edith "Ida" SINCLAIR at St Clements.
On Dec 10, 1919, daughter Pearly married in Winnipeg to Thomas James YOUNG from Halifax.
Bill spent the last years of his life with his son (William Thomas), and folks can fondly remember him sitting in his chair by the side of the house, his white head and kindly face soaking in the warmth of the sun, his homemade cane for support, and comfort - - and always a story of the old days willingly shared with those who stopped by. He died Jan 17, 1929 in Selkirk at the age of 83. His funeral was held at his daughter Bertha's home. She was still Mrs HODGSON at that time. He was buried Jan 19, 1929, at St Clements Churchyard, Mapleton. There is no marker on his grave.

In comparison to his father and grandfather, Bill FILDER appears to have lived a relatively sedentary life as a farmer, fisherman and hunter. He did nevertheless experience a lot of changes in his lifetime. Red River had changed from being a wild frontier populated mostly by Métis and Indians to a fast growing settlement dominated by white people.
Please post comments and queries at this link: FORUM DISCUSSING the WILLIAM FIDLER FAMILY

========================== Family Details ==========================

Children:
1. Sep 21, 1867 JANE MARIE FIDLER (m. William Thomas MOORE)
2. 1868 MARY ANNIE FIDLER (Died in infancy)
3. Feb 14, 1869 WILLIAM THOMAS FIDLER (m. Isabella COOPER)

** MORE ABOUT WILLIAM THOMAS FIDLER
4. Jun 25, 1870 JAMES FIDLER (m1. Catherine McKENZIE, 2. Caroline SAYER, 3. Mathilda, 4. Edith FLETT) ** MORE ABOUT JAMES FIDLER
5. Nov 5, 1872 HENRY GEORGE FIDLER (m. Jane ISBISTER)
6. Dec 30, 1874 ANABELLA FIDLER (m1. PRUDEN, m2. Frank RILEY)
7. Jul 20, 1878 JEMIMA FIDLER (Died in infancy)
8. Sep 19, 1879 JOHN ROBERT FIDLER (m. Amelia SAUNDERS)
9. Jul 31, 1880 SARAH HARRIET FIDLER (m. Alex Donald McLEOD)
** MORE ABOUT ALEX DONALD McLEOD
10. Jul 24, 1882 FRANK FIDLER (Died in infancy, age 4)
11. Apr 11, 1884 DONALD PATRICK FIDLER (m. Dora Victoria COOPER)
12. Mar 11, 1886 FLORENCE FIDLER (Died age 16)
13. Feb 15, 1888 SAMUEL LAWRENCE FIDLER (Died in infancy)
14. Mar 3, 1889 BERTHA FIDLER (m1. Charles HODGSON, m2. Walter BIRSTON)
15. Feb 11, 1891 ALEXANDER HERBERT FIDLER (m. Edith "Ida" SINCLAIR)
16. Jun 11, 1893 PEARLY FIDLER (m. Thomas James YOUNG)