GEORGE STILL (1827-1909)
ELIZABETH JANE ALLINGHAM (1831-1864)
** Great Grandparents of Gary STILL **
MARY POTTER (1828-1919)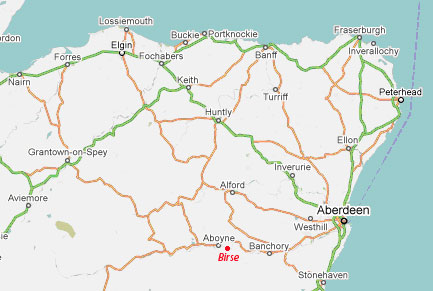 We can trace George STILL's ancestors back to Alexander STILL who was born in the early 1700's in a parish called Newhills, on the edge of Old Machar, west of Aberdeen in Scotland. There were STILL families in this area more than a century before George was born.
George STILL was born on Aug 19, 1827, in Birse, Aberdeen County, Scotland, the son of Margaret YOUNG and John STILL (1788-1836). He was the sixth son in a family of 10 boys.
Many Scots emigrated to Canada by qualifying to receive passage money or land grants as an alternative to poor relief. Between 1825 and 1846, it is believed that some 600,000 emigrants settled in all parts of Canada.
In 1836 George was nine years old when he sailed from Scotland with his parents and siblings to Boston, USA. George's youngest sibling, Robert, was born not long before they left. They were six weeks at sea. While crossing the Atlantic, in an open sailing vessel, George's mother (Margaret) had no way of drying baby Robert's diapers, except to pin them around herself, next to her skin, so her body heat would dry them. The family landed in Boston and somehow travelled all the way to Muddy York, Ontario. Actually, Muddy York was renamed Toronto in 1834. Its first mayor was William Lyons McKENZIE.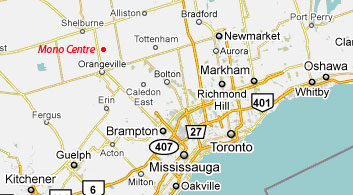 After obtaining provisions, a team of oxen and a cow at Muddy York (Toronto), the family set out on the last lap of their journey. They took turns walking and riding the 48 miles, following a blazed trail, then another 12 miles to Mono Township where they settled. George's mother, already ill from the sea voyage and nursing a little baby, would never recover from the ordeals she had to endure.
The first settler in that area, Robert LARGE (1828-1862), had arrived two years earlier (1834). He described it then as a "howling wilderness" with no clearings.There were no trees cut except those along the lines of the government survey. The only road form Mono Mills north was a side road and it was a mere trace cut through the forest, just wide enough for a yoke of oxen and a jumper to travel along. The jumper was the vehicle must used in those times, although a wagon was used occasionally for the purpose of cadging provision and other necessaries to the settlers. LARGE's sister, Jeanette LARGE, would later become the wife of George's older brother, James STILL (1821-1904).
When George's family first arrived, they stayed with the family of Peter STEWART (1801-1872) while they constructed their own first log house. Apparently Mrs STEWART and George's mother (Margaret) were sisters. Mr. STEWART was a blacksmith by trade, and had brought a set of tools with him and erected a small shop on Mr. LAIDLAW's farm, where he worked at his trade until he was able to build a more commodious smithy on his own farm, Lot 20, Con. 4, East.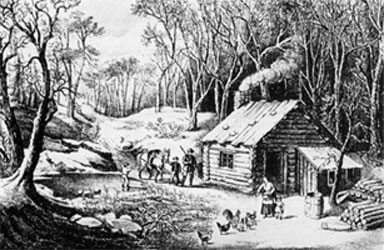 A typical log home of the early 1800's
On Oct 18, 1836, soon after they arrived, George's mother (Margaret) died from the ordeals already described. She was only 40 years old. Hers was the first funeral in Mono. She was buried on the west half of Lot 13, Concession 5, East, which was at that time clergy reserve land. The remains were afterwards removed to Mono Centre burying ground (Burn's United Church Cemetery; Cons. 3, Lot 19).
In 1840, George's uncle, James STILL (1790-1885) arrived in Mono, a widower with six children.
George Marries Elizabeth Jane ALLINGHAM
1852
Around 1852 George married Elizabeth Jane ALLINGHAM. Son John was born on Jan 22, 1853 in Caledon, Simcoe County, ON. Elizabeth Jane was born around 1831, daughter of Elizabeth Jane BRUCE & James Edward ALLINGHAM (1806-1875). James ALLINGHAM was born in Ireland and immigrated to Ontario around 1810. ** FREITAS has George's wife listed as Ellen ALLINGHAM. ** See my Notes below **
In 1859 George's brother, Peter STILL, married Ellen MADILL. On Mar 13, 1860, daughter Mary Ann was born in Shelburne.
Census 1861 recorded George in Amaranth Township, Ontario, with his wife named Eliza J. Their children are listed as John (age 9), Eliza, Margaret, Letitia and Agnes (age 1). They have a RITCHEY family for neighbours: James RITCHEY, age 58 and children: James 26; John 16l Ellen RITCHEY, age 12.
On Feb 24, 1864 my grandfather, James STILL (the youngest of Elizabeth's children) was born in Shelburne. His mother (Elizabeth) died in Shelburne soon after James was born.
George was left with six youngsters (John (age 11), Eliza Jane, Margaret, Lettie. Agnes and baby James). He asked his younger brother, Peter STILL and his wife Ellen (nee MADILL) to care for baby James, who would need the kind of care he could not provide.
George was 40 years old in 1867, the year when the Dominion of Canada was formed and Toronto became the capital of Ontario.
George Marries Mary POTTER
1869
In 1869 George STILL re-married to 39 year old Mary POTTER (Mary was born in 1830).
Now GEORGE was in a position where he could have resumed the raising of his son, James. However, little James, now five years old, would have nothing to do with this. To him, his Mom and Dad were Peter and Ellen (nee MADILL); and by now, Peter and Ellen had become too attached to the child. James remained where he was, and was raised by Peter and Elizabeth. I can only assume that Mary POTTER took over the care of George's other five children as well.
Census 1871: Amaranth, Wellington North, Ontario: George STILL, farmer, age 44
The STILL Migration to Manitoba
1878
On Jan 16, 1878, Peter STILL's daughter (Mary Ann) married William John MARTIN.
Shortly after this marriage, Elizabeth and Peter, daughter Mary Ann and her husband, and of course their surrogate son James, left for Manitoba. On July 2 that year Peter "took possession" of his homestead.
That same year, Peter's brother, John STILL, married Sophia HANEY, and on their honeymoon they travelled to Manitoba to visit Peter and his family.
James STILL SR, my grandfather, probably never saw his biological father (George) again.
For "the rest of the story" about the STILL's of Manitoba, go to (click): JAMES STILL
Census 1901: Grey (East), ON (#64), SD-E-4 (Melancthon), pg 4, HH-37: George STILL, age 73 (born Aug 19, 1827); wife Mary, age 72 (born Nov 29, 1828). Melancthon is the next town NE of Shelburne, ON
George died in Ontario in 1909 (age 82).
Census 1911: Widow Mary (nee POTTER) STILL, age 82 (born 1828 in Scotland; immigrated 1830). She's in the household of her adopted daughter (Mae) and her husband (Duncan CORBETT) in Melancthon, ON.
Children by George & Elizabeth ALLINGHAM:
1. Jan 23, 1853 JOHN STILL (m. Sophronia "Sophie" HANEY)
2. Sep 22, 1854 ELIZA JANE STILL (m. Rev Abraham TONGE)
3. Oct 4, 1856 MARGARET STILL (Never Married, died 1938)
4. Aug 14, 1858 LETITIA "LETTIE" STILL (Never Married)
5. June 14, 1860 AGNES STILL (m. George BERNIE)
6. Feb 25, 1864 JAMES STILL (m. ELIZA ANN JEFFERY)
** Continued in JAMES STILL
Child Adopted by George & Mary POTTER:
1. April, 1884 MAE STILL (m. Duncan CORBETT)
========= Notes =========
Note 1: Around 1985 my sister Myrna received a binder titled "STILL GROWING" from Gayle MARTIN-FREITAS, who was looking for more information to add to what she already compiled about the STILL family genealogy. Her work provided us with a precious base of information for which we are all very grateful. Gayle herself was a great granddaughter of Mary Ann STILL (1860-1934) who married William John MARTIN (1847-1901). Mary Ann was the only biological child of Ellen MADILL & Peter STILL (1834-1929), who became the surrogate parents of my own grandfather, James STILL SR (1864-1936).
Note 2: Gayle FREITAS' genealogy indicates that around 1852 George STILL was married to Ellen ALLINGHAM, born 1824 in Orangeville, ON; their first child being John STILL, born Jan 23, 1853 in Caledon, Simcoe County, Ontario. Gayle did not have any other information about Ellen. I personally believe it was actually Elizabeth Jane ALLINGHAM (born c1831) who married George STILL. My rationale for this is that Elizabeth Jane appears in Census 1851 with her parents in Amaranth Township, but in Census 1861 she is no longer with her parents. In Census 1861 we find George STILL's wife listed as Elizabeth J, and the children listed in that census match the children presented by Gayle in her genealogy, with Ellen as their mother.
Other factors indicate associations between this ALLINGHAM family and the STILL's. For example son Thomas ALLINGHAM moved to same area in Manitoba as the STILLs, and Emma Maud STILL married in Miniota to Herb ALLINGHAM, who is also associated with this family.