GARY NORMAN STILL (1939-Living)
ELDRED MERLE (FIDLER) THOMAS (1943-1997)
A MEMOIR
© 2008 - 2010 Gary N. Still
Scotch & German Ancestors
My known paternal lineage goes back to Alexander STILL who was born around 1710 in Aberdeen, Scotland. The STILLs lived Old Macahar and Blackhill, Newhills Parish, just west of Aberdeen. Alex's great-great grandson (my great-great grandfather), John STILL (1788-1876), married in Birse (west of Aberdeen) to Margaret YOUNG, and in 1836 John and his siblings all immigrated to Canada with their families to settle in Mono Towship, north of Shelburne, Ontario. In 1878 my grandfather, James STILL SR (1864-1936), was 14 years old when he was moved from Ontario to a homestead north of Teulon, Manitoba. In 1884 James married Ann JEFFERY. My father, Thomas James "Jimmy" STILL, was born on Jan 8, 1894 near Gunton, MB. When Jimmy was 13 years old his family moved to southwestern Manitoba where they farmed near Decker, Isabella and Miniota. In 1917 Jimmy enlisted for World War I, serving in Belgium untl the Fort Garry Horse Regiment was demobilized in 1919 and he returned to farm near Isabella, MB.
More about Thomas James STILL, here's the link: Thomas James STILL
If you have any questions about STILL ancestors, just click on this link: STILL ANCESTORS
I can trace my maternal ancestry wa-a-ay back to Matthias CONRAD who was born around 1535, almost 500 years ago, in Kleinheubach, Germany. That was the year that Jacques CARTIER sailed to North America, and King Henry VIII ruled England. My first maternal ancestor to arrive in Canada was Johann Lorentz CONRAD who was born in 1701 in Kleinheaubach, Germany. In 1751 Lorentz sailed to Nova Scotia with his wife and family. The CONRADs were among the very earliest white settlers in Canada. They first settled in Chezzetcook, NS, the land of the Micmac Indians and the first Acadians. They were there in time to experience the fall of the last French stronghold at Louisburg to the English in 1758. My maternal grandparents, Susan Maud GRAHAM (1867-1948) & Nelson Archibald CONRAD (1860-1846), were the first of my CONRAD ancestors to leave Nova Scotia and venture west (Grampa CONRAD had been a deep-sea diver).They first moved to Dryden, Ontario, in 1913. and in 1923 on to Selkirk, Manitoba.
My mother, Bessie Lorena CONRAD was born on Dec 3, 1903 in Chezzetcook (NS). She met my father (James STILL) when she was cooking for a threshing outfit near Isabella in the Assiniboine Valley. On April 20, 1925 they were married in Selkirk. They returned to the Assiniboine Valley where Jim had hopes of beginning a life of farming. Then, along with the 'Dirty Thirties' came the children. By 1936 Jim & Bessie had six young hungry mouths to feed, each born about a year apart. Life was not easy and they were getting nowhere with farming. They sold what possessions they had and returned to Manitoba where they settled in Old England (Mapleton), just south of the Manitoba Rolling Mills where Jimmy got a job on the Shipping Gang.
My Youth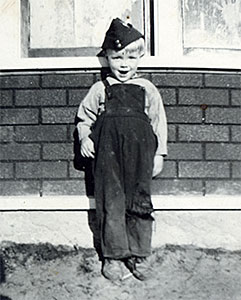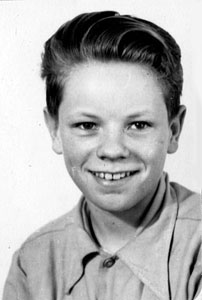 I, Gary Norman STILL, was born on Dec 22, 1939 in Selkirk, Manitoba, about three months after the start of World War II. The 'Dirty Thirties' were coming to an end. My father re-enlisted in 1943 in the Veteran Guards when I was five years old. He was stationed at Kapuskasing in northern Ontario and then in Lethbridge, guarding German P.O.W,'s. It was as though I first met him for the first time when he was discharged in 1945.
I attended the old Mapleton School to Grade 8. For more information go to: Mapleton School
In 1954-55 I attended Grade 9 at the Selkirk Collegiate. Due to overcrowded classes, rural students were not allowed to enroll in Selkirk. As a result, our St Clements Anglican Church Hall was converted into a temporary high school for students from Mapleton, Lockport and St Peters. It was there in 1955-56 that I spent my last year of schooling (Grade 10). I hated school; I hated authority; I hated a hum-drum existence (I was a typical rebellious teenager). No more school for me! I wanted adventure, and travel to far-off places; perhaps the first of many 'bad choices' I would make in my life.
When school was out, the only job I could find was at Stephanson's Fisheries in Selkirk as a Fish Scaler. That involved standing at a table loaded with fish (pickerel, saugers, perch, jackfish,etc) and using a hand held revolving scaler to remove their scales. At the end of the work day I would walk through town on the way home to Mapleton emitting a fishy stench that could be smelled a block away. But it was a job, and I was independent and had money in my pocket. As soon as I turned 16 I bought an old 1931 Chevrolet for $90 and was the envy of my peers. The body was in beautiful shape but it was crank-started and it used more oil than gas. My older brother (Johnny) only had a 1928 Model T Ford, so I had a step up.
H.B.C. WINISK POST
1956-57
It was in the fall of 1956, at the age of 16 (I turned 17 that winter), that I was accepted for a clerking postion with the Hudson's Bay Company (HBC), Fur Trade Division, assigned to their post at Winisk on Hudson Bay. I left home on Dec 10, 1956 and was flown from Winnipeg (via Val D'Or, Quebec) to the Winisk Mid-Canada Line Radar Station airstrip. From there I experience my first trip by dogsled to the remote post at Winisk (also known as Peawanuck), in the land of the northern Cree Indians.
It was just the kind of adventure I wanted. I learned to speak a little Cree and was introduced to native culture. It was like stepping back into history. Their life-style wasn't much different then than it had been for centuries. Many of them still lived in teepees, and they hunted, trapped and fished for a living. I befriended an unforgettable deaf-mute Indian (Ernie HUNTER) who accompanied me on several memorable hikes into the outbacks. The Indians called me OOKI-MASIS ('Little Boss'). I only remained there for about six months, but I could write a novel about the experiences I had while I was there.
However, the pay was poor. By the time I was deducted for room & board there was very little left to buy myself some clothes, etc. It didn't take long for me to realize that this was not going to be a career for me. If I was going to amount to anything in my life, I needed to get some more education. Disillusioned and homesick, I quit and returned home in June of '57.
For more information about Winisk, here are a couple of links:
The Omushkegowak of Winisk River
A Preliminary Study of Acculturation Among the Cree Indians of Winisk, Ontario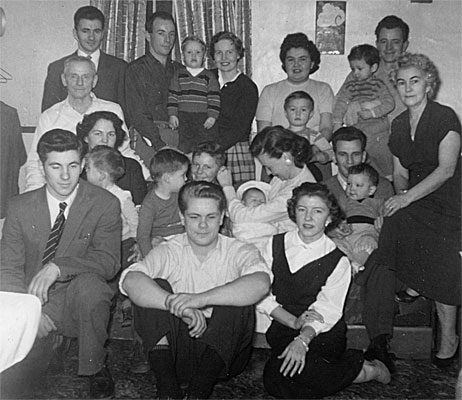 This is the STILL Family in 1957 (Missing is George Everett)
A Welcome Home Gathering for the Wandering Boy from Winisk
The sleepy looking guy front and center is me. The sleepy looking guy next to me is my brother John
(We were both slightly inebriated)
Radio Operator
1958-1960
Meter Reader, Electrical Maintenance Aide, Manitoba Hydro
1960-1962
Fire Ranger
1962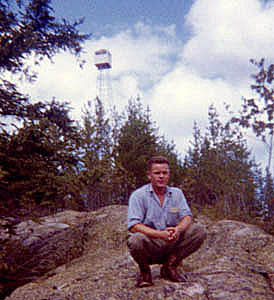 Me and my Bird Lake Fire Tower
Surveyor
1962-1963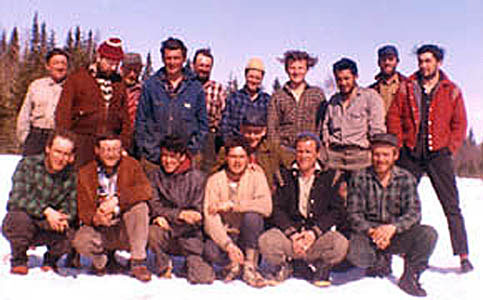 Surveying Crew at a base camp near Cedar Lake, SE of The Pas
CANADIAN FORESTRY SERVICE (FORESTRY CANADA)
Research Technician, Forest Insect & Tree Disease Surveys
1963-1991
Marriage to Eldred THOMAS
1971-1997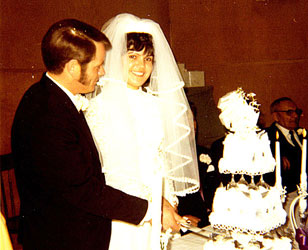 Alberta Forest Service
1992-1996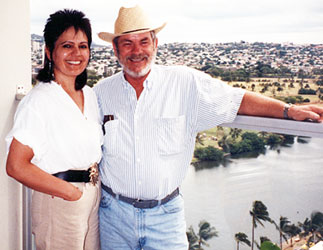 Vacation in Hawaii
The only real vacation we ever had together
RETIREMENT
1996-
Under construction. Much more to come