PETER CHARLES "PEACH ASS" FIDLER (1850-1941)
MARGARET SWAIN (1860-1943)
(Last Updated: February 17, 2017)
Peter Charles "Peach Ass" FIDLER was born Jul 12, 1850 in the Pembina district, son of Jane LAMBERT and Peter P FIDLER (1824-1901); grandson of Charles FIDLER (1798-1886) and great-grandson of Peter FIDLER of Bolsover (1769-1822).
** MORE ABOUT CHARLES FIDLER
** MORE ABOUT PETER FIDLER of BOLSOVER
Not long after Peter was born his family settled along the Assiniboine River in the Headingly-St James area where his 74 year old grandfather (Charles FIDLER) and his Uncle Edward FIDLER (1826-1913) lived.
Canadian Confederation
Riel's Red River Rebellion
Manitoba becomes a Province
1867-1870
On July 1, 1867 the British colonies in North America were united under the British North American Act to become the Dominion of Canada. Sir John A MACDONALD (1815-1891) was appointed as Canada's first Prime Minister.
In 1867 Peter's mother (Jane) died, and his father (Peter Sr.) remarried to Therese SWAIN, daughter of Mary & John Jacques SWAIN (1813-1855).
On Oct 11, 1869, Louis RIEL (1844-1885) placed his foot on the surveyors' chain to tell them their work was finished! This marked the beginning of another Red River Métis Rebellion. When it was all over, RIEL's Provisional Government accepted the terms of the Manitoba Act and on July 15,1870Manitoba became the fifth province of Canada, the Canadian Government having acquired the territory previously governed by the HBC. RIEL fled to the USA, taking refuge south of the border in Dakota Territory.
In 1870 when the Red River Rebellion occurred, Peter was about 20 years old.
Marriage to Margaret SWAIN
1875
In 1875 Peter married in Headingly to Margaret SWAIN, daughter of Ellen BREMNER & Thomas SWAIN (1835-1940).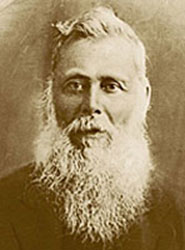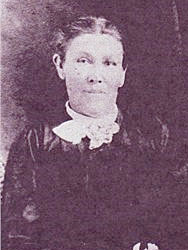 Peter Fidler – Margaret Swain
(From Demeria and Bill Kellett)
Peter Moves to Saskatchewan
1879
In 1879 Peter, Margaret and their two children (Charles & Mary) travelled by ox-cart from their home in Headingly, Manitoba to the St Catherine's district of Saskatchewan (west of Prince Albert) where they built a log home. In 1895, this house was replaced by their second, larger home, in which they lived the rest of their lives. They were recorded there in census 1891, 1901, 1906, 1911, 1916 and 1921.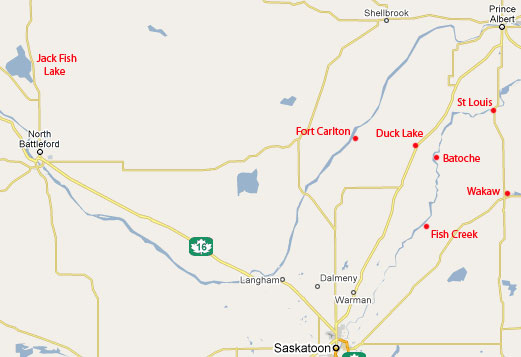 In 1882 many of Peter's FIDLER and BREMNER cousins moved to the Bresaylor area west of North Battleford. The settlement was named BRESAYLOR, using three letters from each of the founding families (BREMNER, SAYER & TAYLOR).
The Riel Rebellion
The Battle of Batoche
1885
Much has been written about LOUIS RIEL and The Battle of Batoche.
** MORE ABOUT FIDLER & BREMNER Families in THE BATTLE OF BATOCHE
In 1902 daughter Annabella married William MILLER in Prince Albert, son of Marion McKAY and Thomas Falkner MILLER (1848-1930). ** MORE ABOUT THOMAS FALKNER MILLER
In 1903 eldest daughter Mary Margaret married Thomas Charles ADAMS in Lindsay (SK), son of Ann POCHA and Robert ADAMS (1848-1918).
In 1905 son Alexander married his sister-in-law, Flora ADAMS in Lindsay (SK), daughter of Ann POCHA & Robert ADAMS (1848-1918).
In 1907 daughter Laura married William Thomas BROWN in Prince Albert, son of Emma MERRITT and James Robert BROWN (1855-1941).
In 1911 daughter Emma Jane married Rudolph Ouellette SCOTT in Prince Albert, son of Mary Jane ISBISTER and Thomas SCOTT (1853-1931) from the Orkneys of Scotland.
Sometime after 1911 and before 1916, eldest son Charles married Florence HALCRO, daughter of Margaret and Thomas HALCRO (b-1860). By 1921 they had divorced.
In 1912 son James married Mary Louise MacDONALD, daughter of Lydia Louise SETTEE and Reverend Donald Douglas MacDONALD (1861-1930).
In 1916 daughter Sophia Catherine married Henry Richard McKAY, son of Mary McLAUGHLIN & William Charles McKAY (1858-1932).
In 1920 daughter Florence Jessie married George Herbert COULDWELL, son of Sarah Katherine and Herbert COULDWELL (1869-1954).
It is uncertain when youngest daughter Mabel married Charles James SMITH (1892-1961) of uncertain origins.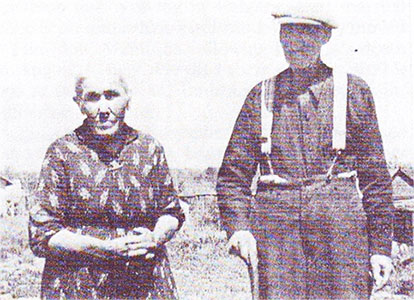 Margaret & Peter Fidler – 65th Anniversary (1940)
(From Immcrafts)
On March 13, 1941 Peter Charles FIDLER died; wife Margaret on Aug 18, 1943, both in Prince Albert.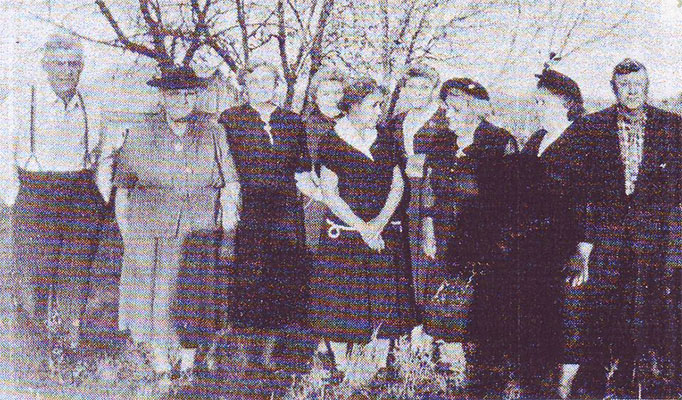 Fidler Family: L-R: Bill Fidler, Mary Adams, Jane Scott, Kate McKay, Sarah Fidler, Jessie Couldwell,
Bella Miller, Mabel Smith, Dave Fidler. (From Immcrafts)
Comments and queries at this link: ** FORUM DISCUSSING this PETER FIDLER FAMILY
=========================== Family Details ===========================
Children:
1. Jan 1, 1877 CHARLES THOMAS FIDLER (m. Florence "Flossy" HALCRO)
2. Oct 4, 1878 MARY MARGARET FIDLER (m. Charles Thomas "Long Tom" ADAMS)
3. Sep 17, 1880 ALEXANDER PETER "SANDY" FIDLER (m. Flora Mabel ADAMS)
4. Nov 18, 1882 ANNA BELLA FIDLER (m. William John MILLER)
** MORE ABOUT WILLIAM JOHN MILLER
5. Nov 28, 1884 LAURA FIDLER (m. William Thomas "Billy" BROWN)
6. Dec 4, 1886 SARAH ELLEN FIDLER
7. Oct 24, 1888 EMMA JANE "JENNY" FIDLER (m. Rudolph Ouellette SCOTT)
8. Aug 29, 1890 JAMES FLETT FIDLER (m. Mary Louise McDONALD)
9. Sep 12, 1892 WILLIAM ALFRED FIDLER
10. Sep 16, 1895 SOPHIA CATHERINE "KATE" FIDLER (m. Henry Richard "Hillyard" McKAY)
11. Feb 19, 1898 SAMUEL DAVID FIDLER
12. Aug 19, 1900 FLORENCE JESSIE FIDLER (m. COULDWELL)
13. Mar, 1904 MABEL MAUDE FIDLER (m. Charles SMITH)