JAMES FIDLER (1822-1905)
ELIZABETH (MARGUERITE) LINKLATER aka THOMAS (c1829-?)
James (Jim) FIDLER was born around 1822 in Red River Settlement, the eldest son of Nancy HALLETT and Thomas Jonathan FIDLER (1795-1875). Actually, I think James may have been Nancy's child from a previous relationship.
** MORE ABOUT THOMAS JONATHAN FIDLER
Jim was probably around nine yrs old when his mother, Nancy, died (just when she died is not clear). His father re-married in 1831 to Jane KIPLING, the daughter of a Saulteaux woman and John KIPLING (1774-1850), and by 1835 they were living on Lot 93 in St Andrews (Lockport area).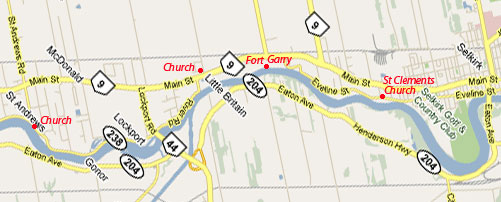 Marriage to Elizabeth Marguerite LINKLATER aka THOMAS
c1848
James' first child, James FIDLER JR, was baptized on Feb 27, 1849 at the recently built St Andrews Anglican (the Old St Andrews Stone Church). On March 15, 1849 James formally married Elizabeth (Marguerite) LINKLATER aka THOMAS, daughter of Catherine LONGMORE/ MOORE & Andrew LINKLATER (1802-1837). Elizabeth's father (Andrew LINKLATER) died in 1837 and her mother remarried to Simon THOMAS (1815-1888), thus the aka (also known as) THOMAS. ** MORE ABOUT SIMON THOMAS
Canadian Confederation and another Red River Rebellion
Manitoba becomes a Province
1867-1870
On July 1, 1867 the British colonies in North America were united under the British North American Act to become the Dominion of Canada. Sir John A MACDONALD (1815-1891) was appointed as Canada's first Prime Minister.
On Oct 11, 1869, Louis RIEL (1844-1885) placed his foot on the surveyors' chain to tell them their work was finished! This marked the beginning of another Red River Métis Rebellion.
Jim FIDLER was about 47 years old during the Rebellion and he had about eight young children. There are no indications that he became directly involved in the affair. The Provisional Government established by RIEL was composed mostly of the French-speaking population from along the Assiniboine River, St Boniface and southern parts of the province. From Kildonan north along the Red River the residents were almost all English-speaking half-breeds and members of the St Peters Indian Band under Chief Henry PRINCE (1819-1902). Mapleton's representative in RIEL's Provisional Government was Thomas BUNN (1830-1875) who lived directly across the river from the St Clements Church.
** MORE ABOUT THOMAS BUNN and the RED RIVER REBELLION
Undoubtedly Jim was advised not to become involved in the Rebellion by his elderly father. Old Tom FIDLER was a veteran of the First Métis Rebellion led by Cuthbert GRANT (1796-1854) and he knew only too well that things would get nasty.
In December of 1870 a Census of Red River was completed. The results recorded 5, 757 French-speaking Métis; 4, 803 white settlers and 558 Indians in the census region. This information would be later used to determine who would be eligible for Land Grants and Scrip. In 1870 Jim and his family were recorded on Lot 96 in what was then St Clements Parish with five children: James 22; Albert 20; John 18; Joseph 16; Charles 12. This record seems to be incomplete; missing are Henry, Alexander & Thomas, perhaps just an omission.
In 1873 Jim Sr's last child, Catherine FIDLER, was born at Norway House.
On March 1, 1875 Jim's father (Tom FIDLER) died in Mapleton.
In the Census of 1881 Elizabeth and James were recorded in St Clements Parish with the following children: Henry, age 27; Alexander 17; Thomas 13; Elizabeth 11; Catherine, age 9.
** Many references indicate that Elizabeth died in 1863 and that James re-married to Marguerite. However, Elizabeth is still alive in 1881 according to the census that year. My own opinion is that they were the same person (Elizabeth-Margaret) or perhaps sisters.
In 1884 Jim's step-mother (Jane) died in Mapleton.
James FIDLER died on Dec 10, 1905. His burial record says that he was 83 yrs and 8 mos of age. He was buried at St Peters, Dynevor, grave not marked.
There appears to be several anomalies or oddities in the records for James' family. Discussion is welcomed on the Forum. Please post comments & queries at this link: FORUM DISCUSSING this JAMES FIDLER FAMILY
======================== Family Details ========================
Children:
1. Nov 1, 1850 JAMES FIDLER JR (m. Nancy (Ann) SABISTON)
2. 1850 ALBAN ALBERT FIDLER (m. Annabella "Bella" JOHNSTON/ OLSON/ WILSON)
3. 1851 HENRY FIDLER (m1. Clara SABISTON; m2. Rebecca SQUIRREL - WILLIAMS)
4. Nov 7, 1852 JOHN FIDLER
5. 1854 JOSEPH FIDLER (m. Maria (Anne) (nee CALDER) BRUYERE)
6. Jun 15, 1858 CHARLES FIDLER (m. Elizabeth ARMSTRONG)
7. Jan 18, 1863 ALEXANDER FIDLER (m. Margaret Ann STARR)
8. c1867 THOMAS FIDLER (m. Sarah Mina or Jemima STEVENSON)
9. c1870 ELIZABETH FIDLER
10. c1872 CATHERINE FIDLER (m. William PRINCE JR)