HENRY FIDLER (1831-1908)
NANCY "ANN" PRUDEN (1827-1904)

Henry FIDLER was born Feb 1, 1831 in Mapleton, the son of Nancy HALLETT & Thomas Jonathan FIDLER (1795-1875), a grandson of Peter FIDLER of Bolsover (1769-1822). Henry was probably named after his maternal grandfather, Henry HALLET (1773-1844). His mother (Nancy HALLET) apparently died not long after Henry was born. His father soon after married Jane KIPLING, the daughter of a Saulteaux woman and John KIPLING (1774-1850), a Hudson's Bay Company (HBC) labourer and Interpreter. ** MORE ABOUT THOMAS JONATHAN FIDLER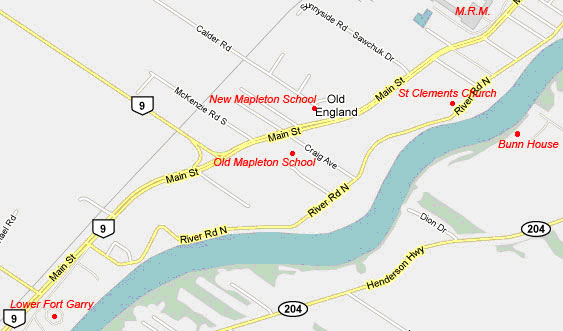 Home for Henry FIDLER, throughout his life, was in Mapleton (Old England), first on the east side of the river somewhere between Lower Fort Garry and Bunn House, and later across the river along the River Road in the vicinity of what today is Craig Avenue.
Sir John FRANKLIN disappears in the Arctic
1847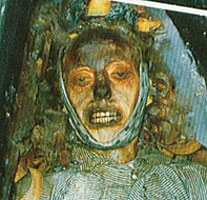 Who can forget this grizzly image of John Torrington's well-preserved body
found under the Arctic permafrost by Owen Beattie in 1985 .
Torrington was one of Franklin's crew-members on his fateful voyage
Henry FIDLER was about 17 year old in 1847, whenSir John FRANKLIN (1786-1847) disappeared into the Arctic with two ships and 128 men trying to find the North-West Passage. ** MORE ABOUT FRANKLIN in Wikipedia
Henry marries Nancy PRUDEN
1852-53
By 1852 Henry was in a relationship with Nancy "Ann" PRUDEN, daughter of Nancy (nee HENRY) CAMPBELL & William PRUDEN (1804-1844). ** MORE ABOUT WILLIAM PRUDEN
On Aug 28, 1853, daughter Caroline was born in Mapleton. On Dec 22, 1853 Henry & Nancy were church-wed at the Old St Andrews Church on the Red.
Arctic Voyages in search of FRANKLIN
Expedition of Dr. John RAE
Expedition of James ANDERSON and James Green STEWART
1854-1855
Henry FIDLER and his brother, John FIDLER, are both known to have participated in two of the Expeditions that were sent to determine the fate of Sir John FRANKLIN, as follows.
Soon after FRANKLIN's disappearance, Dr John RAE (1813-1893) went to England where he and Sir John RICHARDSON were appointed by the British Admiralty to try to learn the fate of FRANKLIN and to try to find the illusive Northwest Passage.** MORE ABOUT JOHN RAE in Wikipedia
Governor George SIMPSON (1786-1860) of the HBC sent Chief Factor James ANDERSON (1812-1867) and James Green STEWART (1825-1881) on their journey down the Back (Great Fish) River to investigate the Inuit reports RAE had used in his search for FRANKLIN.
** MORE ABOUT JAMES ANDERSON in DCBO
** MORE ABOUT JAMES GREEN STEWART in DCBO
Returning to Repulse Bay in 1854, RAE encountered Inuit who revealed that the FRANKLIN expedition had ended in disaster; some of the last survivors had resorted to cannibalism. Back in London, when he delivered the news, Victorian England reacted with shock, outrage and denial. RAE was the only major British explorer never to receive a knighthood. He died in London in 1893 and was buried in his beloved Orkney.
Canadian Confederation and another Red River Rebellion
Manitoba becomes a Province
1867-1870
On July 1, 1867 the British colonies in North America were united under the British North American Act to become the Dominion of Canada. Sir John A MacDONALD (1815-1891) was appointed as Canada's first Prime Minister.
On Oct 11, 1869, Louis RIEL (1844-1885) placed his foot on the surveyors' chain to tell them their work was finished! This marked the beginning of another Red River Métis Rebellion.
Henry FIDLER was about 38 years old during the Rebellion and he had six young children. There are no indications that he became directly involved in the affair. The Provisional Government established by RIEL was composed mostly of the French-speaking population from along the Assiniboine River, St Boniface and southern parts of the province. From Kildonan north along the Red River the residents were almost all English-speaking half-breeds and members of the St Peters Indian Band under Chief Henry PRINCE (1819-1902). Mapleton's representative in RIEL's Provisional Government was Thomas BUNN (1830-1875) who lived directly across the river from the St Clements Church.
** MORE ABOUT THOMAS BUNN and the RED RIVER REBELLION
Undoubtedly Henry was advised not to become involved in the Rebellion by his elderly father. Old Tom FIDLER was a veteran of the First Métis Rebellion led by Cuthbert GRANT (1796-1854) and he knew only too well that things would get nasty.
When it was all over, RIEL's Provisional Government accepted the terms of the Manitoba Act andon July 15,1870 Manitoba became the fifth province of Canada, the Canadian Government having acquired the territory previously governed by the HBC.
In December of 1870 a Census of Red River was completed. The results recorded 5, 757 French-speaking Métis; 4, 803 white settlers and 558 Indians in the census region. This information would be later used to determine who would be eligible for Land Grants and Scrip. Henry & Nancy were recorded on Lot 14 in what was then St Clements Parish with seven children: Caroline, age 17; Thomas 14; William 12; Ann 9; Marguerite 5; Peter 3; John, age 1.
In 1875 both Henry and Nancy (of St Clements Parish) applied for their Half-breed Scrip.
Henry's father, Tom FIDLER, died in 1875; buried in the St Clements Cemetery at Mapleton. Around that time, daughter Caroline married George NORQUAY (1852-1942), son of Mary MONKMAN & Henry NORQUAY (1810-1874), a first cousin of Premier John NORQUAY (1841-1889)
In 1878 son Henry married in Selkirk to Matilda CALDER, daughter of Charlotte LYONS & George CALDER (1823-1906). ** MORE ABOUT GEORGE CALDER
In 1880 son William married Sophia SPENCE, daughter of Clara SABISTON & Peter SPENCE (1833-1917).
Perhaps around 1880-81 daughter Annie was living with an Unknown PARISIEN.
When the Census was taken in 1881 Henry was recorded in Mapleton as age 50, his wife Nancy, age 45. Children with them/ ages: Margaret 15; Peter 13; John 11; Eliza 8; Alex 5; and Alice 1.
In 1885 Henry obtained a patent for Lot 14, St Clements Parish.
In 1886 daughter Maggie married in Mapleton to John Robert BEGG, son of Catherine SPENCE & Charles BEGG (1814-1902).
In 1893 daughter Eliza married Peter McKENZIE, son of Christina BELL & Alexander Black McKENZIE (1828-1873).
** MORE ABOUT ALEXANDER BLACK McKENZIE
In 1895 son Peter married Frances, daughter of Sarah BIRSTON & Jacob SPENCE (1830-1906)
Around 1898 son John married at St Clements to Catherine MOWAT b-1878, daughter of Mary Ann SPENCE & John MOWAT (1856-1927).
In 1899 son Alex married in Mapleton to Ann Elizabeth, daughter of Mary Ann SPENCE & John MOWAT (1856-1927).
On Christmas Day, 1904, Nancy FIDLER died at the age of 66 and seems to have been buried the same day in St Clements Churchyard, Mapleton.
Tina McKENZIE b-1896, their granddaughter (who became Mrs LONGBOTTOM), daughter of Eliza and Peter McKENZIE, remembered her maternal grandfather (That would be Henry). "I (Tina) was very fond of him, and I am sure he made a spoiled brat of me, because my grandmother was forever scolding me for some mischief I would get into. When I was about 10 yrs old (about 1906), he took me to St Clements Sunday School Picnic at Winnipeg Beach. I had 20 rides on the merry-go-round at 5 cents a ride."
Henry FIDLER died on Apr 29, 1908. He was 77 yrs old. He was buried with his wife and daughter Matilda Alice in the St Clements Cemetery at Mapleton.
========================== Family Details ==========================
Children:
1. Aug 28, 1853 CAROLINE FIDLER (m. George NORQUAY)
2. Jan 1, 1856 HENRY THOMAS FIDLER (m. Matilda Alice CALDER)
3. July 5, 1858 WILLIAM "BILL" FIDLER (m. Sophia SPENCE)
4. Apr 2, 1862 ANN "ANNIE" FIDLER (m1. Unknown PARISEN, m2. John Robert COX)
5. Sept 12, 1865 MARGARET JANE "MAGGIE" FIDLER (m. James Robert BEGG)
** MORE ABOUT JAMES ROBERT BEGG
6. Oct 10, 1867 PETER FIDLER (m. Frances Edith SPENCE)
7. Jan 1, 1870 JOHN "JACK" FIDLER (m. Catherine "Kate" MOWAT)
8. Aug 5, 1872 ELIZA FIDLER (m1. Peter Lawrence Clarke McKENZIE, m2. John Thomas BIRSTON)
** MORE ABOUT JOHN THOMAS BIRSTON
9. Sep 1, 1875 ALEXANDER GEORGE FIDLER (m. Ann Elizabeth MOWAT)
10. Oct 5, 1879 MATILDA ALICE FIDLER (Died in infancy, age 7)